In the article below, we explore one of our recent projects – the migration of a Magento 1 Open Source website to Magento 2 Commerce. The transfer was performed by the Netbase professionals. Since it was not an ordinary migration, we've decided to describe all its nuances in the following case study, with the blessing of Netztech – our happy client.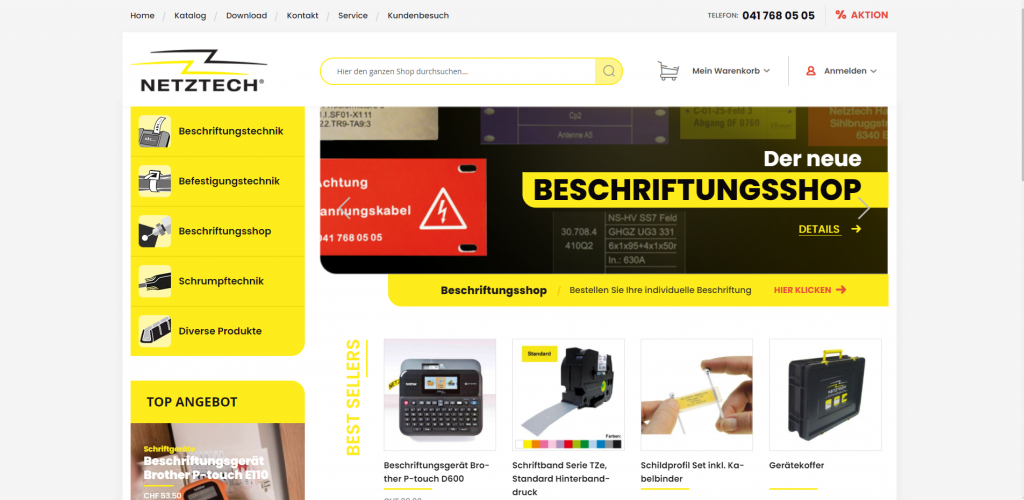 Netztech – a source of technological products in Switzerland
Let's say a few more words about Netztech before going any further. Netztech Handels AG has been operating successfully in the technical field of labeling, fastening, and shrinking technology for over 30 years. Netztech Handels AG, based in Baar, serves customers throughout Switzerland in the areas of labeling, fastening, and shrinking technology. 
Now, Netztech provides their client with a broad spectrum of technical products in different technologies. With hundreds of thousands of registered clients and daily visits, the company experiences an intense load. The number of orders may exceed the mark of several hundred per day. Not to mention that the look of the website need to catch up with the trend of the industry. It is not a surprise that such an active company decided to move to Magento 2 to get full support and the latest safety features.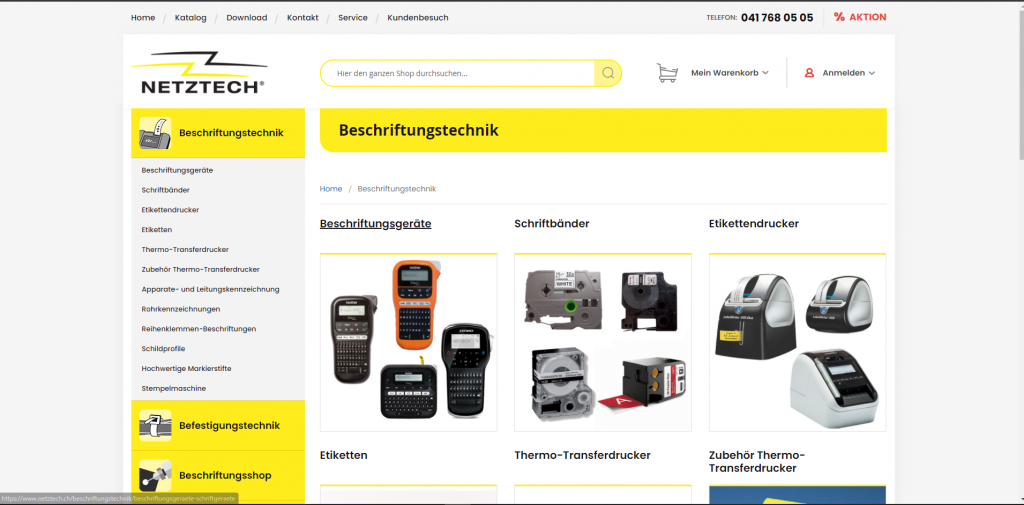 The Client's Motivation For Magento Migration
When approaching us for the Magento 2 migration project, the owner of Netzech had already realized some limitations on their Magento store such as:
Not really attractive website design
Poor website performance and user experience
Slow page load speed
Not user-friendly admin panel (too technical)

For all of the above reasons, they decided to migrate to Magento 2 to enhance the website comprehensively
The Client's Goals And Expectations After Magento 2 Migration
From our discussion, Netztech set some specific goals for us as well as shared their expectations on this project:
Bring freshness and elegance to the website design
Enhance the website performance
Improve the user experience
Maintain all of the functionalities in the current Magento 1 store
Maintain all datas from current Magento 1 store (customer, order, shipment, product, categories…)
Know how to manage the new Magento 2 store effectively

Besides, Netztech hoped that they could complete the Magento migration process in the shortest possible period of time at a reasonable cost.
Netztech's migration to Magento 2
One of the most intriguing aspects of the Netztech case is that the company decided to switch from Magento 1 Community Edition to Magento 2 Commerce. While the migration from M1 to M2 was a necessity because of the M1 EOL, the decision in favor of the Commerce solution was tightly bound to the possibility to outsource various responsibilities. While you can get almost all Commerce features on Open Source, the latter does not offer such perks as support, account manager, and server. However, this process is associated with various difficulties. For instance, The two systems rely on different data tables, so that you cannot just transfer information between them. It is necessary to modify Magento 1 records to make them suitable for Magento 2. 
According to the primary goal that Netztech initially set, we had to transfer orders, customers, and products from Magento 1 Community to Magento 2 Commerce. We had to deal with the following data:
Orders;
Shipments;
Invoices;
CMS pages
Customers;
Categories;
Products.
Not only data migration, but we also need to install multiples of plugins in Magento 1 version, find their Magento 2 version, start installing and configuring them as well as solving the conflict between these plugins
This took us quite some time to deal with, as there're many problems when installing over 10 new plugins together and making them work together, fixing styling on the frontend… However, our specialists were managed to solve all the issues successfully while maintaining the progress of the project
Another part of the project is to apply the new design that Netztech has provided. For this task, we have to hold multiple discussions with the Netztech team to check every part of the design to make sure it cope with the Magento 2 structure and if we could provide any suggestion to improve the UI UX of website.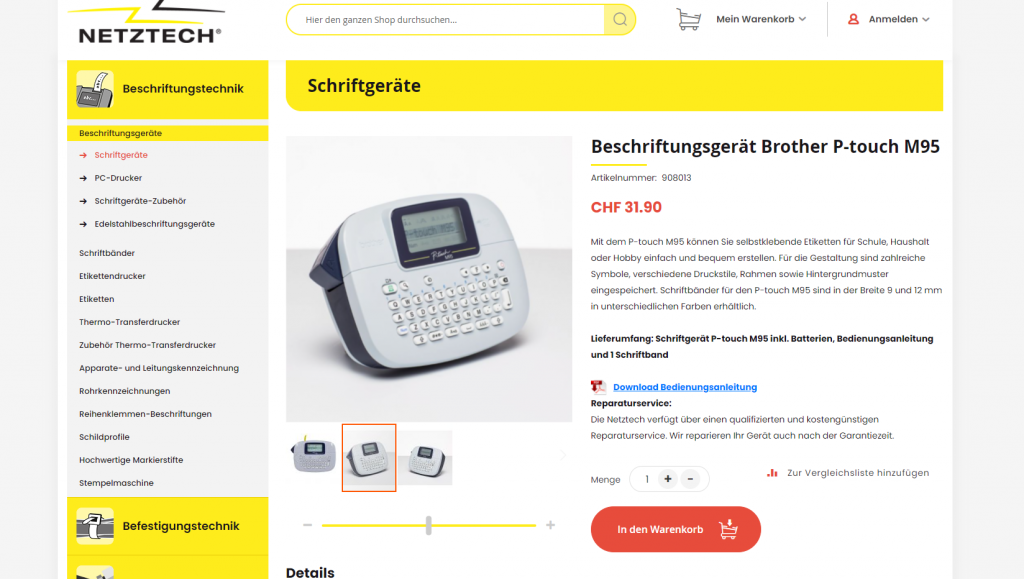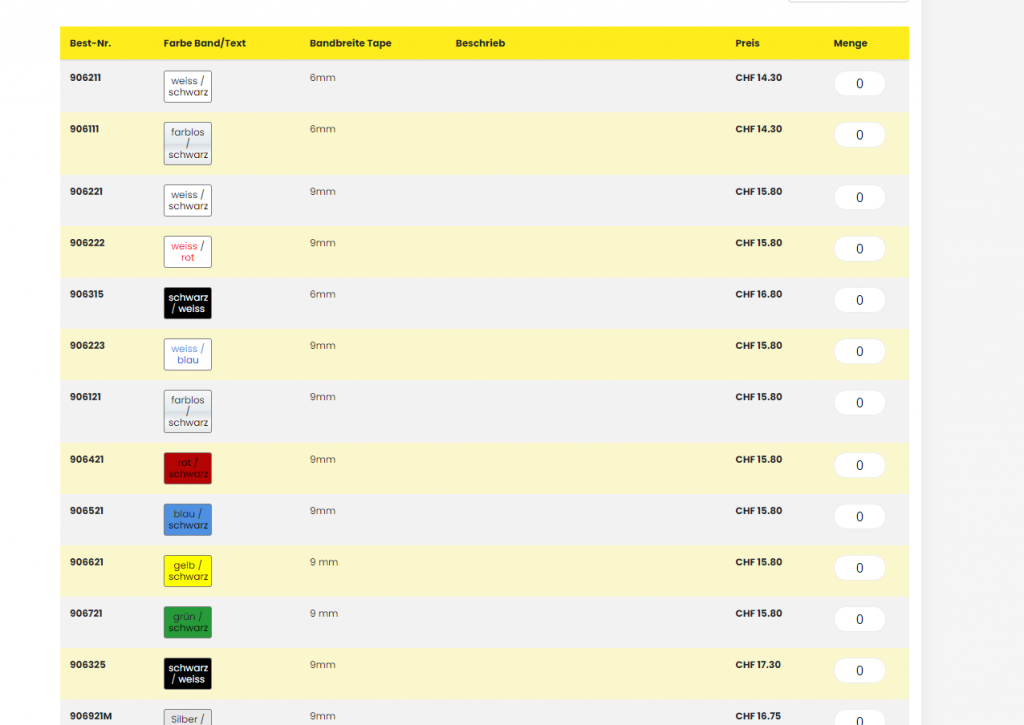 How Was The Magento 2 Migration Process?
After reaching an agreement on the proposal and signing the contract, we started the work by giving the Netztech team a detailed Schedule and Timeline for their project, which included all tasks, sub-tasks, deadlines, and milestones of the project so that the store owner could easily follow our work.

The whole development process was executed on our development server, and once the migration was completed, we moved the site to the live environment. Also, we gave the owner access to the development site so she could know the working progress and give us feedback. We – Netbase also have our own project management tool called Cloodo, which was developed and managed by our professionals. With our tool, the client and track the project progress anytime they want, to see whichever task is given to which member, being able to view the project on Gantt chart to have an overview on the project status. The client can raise a request anytime by just submitting a ticket and it will be followed up by our project team. As a result, the Netztech team is very pleased to see the progress of the project every day and notice us if there's any feedback quickly
Besides, regular communication with us across multi-channel was emphasized to keep them up to date with the process. We can discuss over Skype, Whatsapp, Slack, Email or any form of communication that client requires
In general, Netztech's Magento migration process included:
New design implementation and configuration
Data migration (the data migration was carried out two times, in the beginning, and before moving the site to live)
Extension migration – new module installation, configuration, customization and data transfer (11 modules)
Custom function development (search feature, qty verification feature)
Site configuration (email templates, CMS pages, language, currency, shipping and payment…)
Site deployment
The Magento 2 migration project of the Netztech case study took 35 working days to complete
How Is The Website After Being Migrated To Magento 2?
Now, the migration is over, and the new Magento 2 Commerce website works in full swing. Our client is delighted with the work done. We transferred all the entities Netztech asked about, following the existing guidelines. Any issues that took place during the migration were rapidly addressed.
As we mentioned before, the Netztech owner set some targets for us on the very first discussions of the project in terms of both website design and performance.
After completing the migration to Magento 2, we met all of the requirements and expectations at the beginning. The Magento 2 storefront looks beautiful and elegant that makes products stand out. Moreover, the page speed is fast with significant user experience improvement. Apart from it, Magento 2 back-end is less "technical", very user-friendly, and easier to use than Magento 1's.
The project did not come to an end after their new Magento 2 store was launched. We were associated with Netztech for three months later to provide them free support. Netztech also purchase some more customizations to the site to enhance the user experience and everything was done flawlessly
This is the new look of the Netztech website thanks to the Magento migration: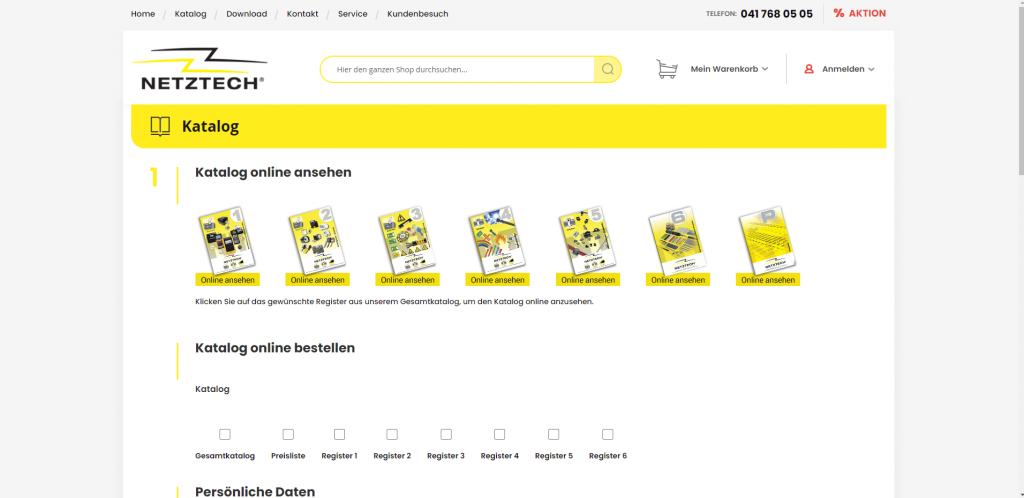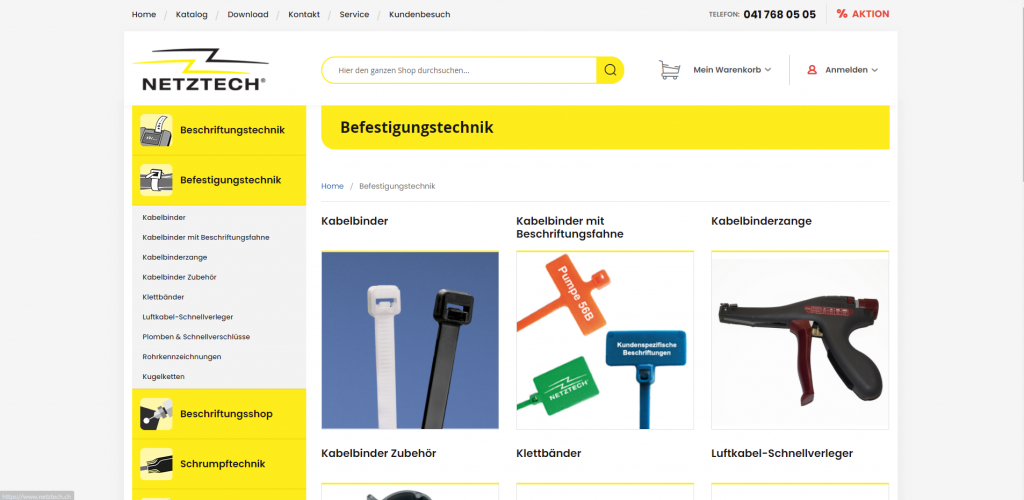 Are You Having A Plan Of Magento Migration In Mind?
Hope that through this Magento migration case study, people who are planning to migrate from Magento 1 to Magento 2 can imagine how their process would be.
But, if you still find the Magento 2 migration process complicated, let our Magento experts help you to make it simple. In recent years, we have implemented a wide range of migration projects and accumulated a lot of experience. That's why we are confident to help you migrate to Magento 2 without any problems.
What you should do now is sending your request to project@netbasejsc.com or call us directly via Whatsapp at +84 355 933 306. Our project department will get in touch with you within a few hours and give you a free quote for your project. It's our pleasure to help Magento e-commerce businesses overcome all barriers of the Magento migrations process and achieve awesome websites on Magento 2!