I. Definition: What is a marketplace?
Some marketplaces like eBay, Amazon, and Etsy seem to be very popular with many people. When asked where they preferred selling online, a lot of new and budding sellers with options being a Web Store or a Marketplace? Choose marketplaces like Amazon, Etsy, eBay to sell products. As per USPS and comScore combined study, 97% of customers browse products on marketplaces before making an end-purchase. It creates an online presence for any seller, a must. Because the buyers' research often leads to purchase, and this entire process takes place online. With online marketplaces now accounting for over 50% of global eCommerce purchases and nearly 18% of total global retail sales in 2021, the power of the marketplace model has become apparent.
Platforming your business with a marketplace is a powerful way to evolve beyond traditional eCommerce, creating a scalable and profitable model while seizing a new type of leadership position within your industry. So what is a marketplace? A marketplace is a platform where vendors can come together to sell their products or services to a curated customer base. Customers can browse, and search for products from these various sellers, and pay the marketplace for the products they buy. The marketplace then passes the money generated from the sale, minus a commission. Much like in a street market, multiple sellers may have similar or identical products for sale. 
Marketplaces will often provide large volumes of traffic, who will browse and search the product listings. They will be generally looking for a particular product or type of product, rather than finding a brand or seller specifically.
They are generally easy to set up and require minimal effort to run. They are usually free to use and list products but take a commission on the sales generated. Because the focus is on product listings, it is harder to build a brand or reputation on marketplaces. 
II. Key advantages of Online Marketplaces
1. No Inventory
Marketplace owners do not own the inventory their platform sells, unlike online store owners. The marketplace owner, therefore, leaves the more operational side of the business to vendors while focusing mainly on promoting their marketplace brand with a view to driving traffic to the platform and converting site views into sales. The online marketplaces understand the needs and requirements associated with sellers selling online. They have built dedicated features and mechanisms to assist and track the performance of the seller's products. One also doesn't need to invest resources for a domain name, host, and other intricacies in setting up their websites. Marketplaces are large businesses that deal with many vendors, that provide their catalog, and typically carry much more inventory than online stores. Does this mean they are more complex to manage? Not necessarily. In fact, the opposite can often be the case. As online store owner manages their own stock and inventory, they usually need to invest heavily in stock acquisition and management when starting the business. On the other hand, the catalog offered in marketplaces is held by external vendors so the investment in stock management is non-existing.
The Pareto principle, also known as the 80/20 rule, tends to apply in Marketplace development, as a minority of products will account for the majority of sales. Sometimes keeping a larger inventory in stock might cause problems in stocking something else which sells better. On e-commerce websites, the Pareto principle means that you will have to get rid of unsold products at some point, by massively lowering their prices. On the contrary, on marketplaces, if there is any product that doesn't sell, you can choose to deactivate it with the push of a button. As a result, marketplace owners only need to make sure that their vendors are adhering to quality regulations and guidelines
2. More Customer Satisfaction
When operating an online store, there is so much to think about: inventory management, site management, customer service, marketing, sales, social media, content and so much more. In contrast, when running a marketplace, the main focus is simply to offer the best platform for the users: marketplace vendors, and the customers they sell to. In particular, for entrepreneurs that leverage a state-of-the-art marketplace SaaS solution to take care of the technology side of the marketplace, there is a whole lot less on their plate. This means they can truly focus on adding value for their users and optimizing the marketplace to best meet their needs.
Of course, none of that is to say that running a marketplace is easy. A lot of work goes into content curation and moderation. Creating a hyper-vertical marketplace, for example, that is focused on a specific niche takes a lot of work from the marketplace owner in sourcing sellers and including the right products. The effort pays off though. With so many vendors selling under one roof, marketplaces are a very interesting place for consumers to go to find cheaper options and new alternatives. A marketplace, done well, can be a huge community of highly satisfied customers.
The marketplaces offer a wide variety of payment methods. The payment methods get integrated into their e-commerce marketplace. It helps in reducing the rate of cart abandonment.
3. Scalable Business Model
Building your own eCommerce website can be as simple or complicated as you want it to be. There are many issues involved in it. So there will be a lot of time and work involved to set up and maintain your e-commerce website. But in a marketplace, as everything remains ready, you can register, list, and sell without spending much time and extra work.
Again, since e-commerce websites have a more initial investment, they take longer to break even. On the other hand, marketplaces have better profit margins as their revenue is basically the percentage of the transactions. Depending on the volume of transactions, this is the earned money that is usually re-invested into product development to accelerate growth. 
Marketplaces offer their owners surprisingly lean, scalable business models. Some of the world's biggest companies make great examples. Uber, for example, does not own their cars. Airbnb does not own the apartments, and Amazon does not own most of the goods and services they sell. While marketplaces need to sell a higher amount of goods, or services, to break even, the fact that focus is on the platform, and reaching consumers, means that economies of scale are easier to achieve.
This means, in contrast to other digital businesses, new marketplace owners might also be surprised by what they can achieve with a relatively small team. With the rise of SaaS technologies that help to launch a marketplace with the latest off-the-shelf product, infrastructure upkeep is relatively low, since maintenance and updates are handled by the provider. Solutions like these mean that marketplaces can function effectively with a very small team of engineers. This allows marketplaces to stay lean and ready to adapt to the changing and competitive eCommerce landscape.
Marketplaces are rapidly dominating the world of eCommerce. Indeed, online marketplace revenue is expected to double by 2022. Online marketplaces are already an attractive option for those looking to move into eCommerce.
III. How to create an successful online marketplace
The rising number of modern online marketplaces cause rapid development of sharing economy. How to catch the hype and build a marketplace that will conquer the world?
1. Before you start building a marketplace: What is the potential of your idea?
One nice thing about the sharing economy is the fact that literally anyone can enter the market with a marketplace idea and become successful.
Take Airbnb for example. It began by solving a problem the founders themselves had and grew into a company that now operates in 99% of countries worldwide. So, having an idea is important, and below we'll show you how to understand the potential of your idea.
Is there a pain point you are going to solve by building a marketplace?
Chesky and Gebbia – 2 founders of Airbnb were focused on solving their own problem, not on doing business. But it turned out that their pain point resonated with the problems of millions of people all around the globe: those who had unused space in their flats and houses, and others who were looking for convenient and cheap accommodation during trips.
So, to make sure your idea will have users when it's turned into a product – test it. Build a prototype of the product, get it into the hands of your potential users and listen carefully to what they say. Feedback is extremely important for small businesses, especially in the initial stage.
How to define your target audience?
The key to the success of their idea was simple. They discovered the pain points of service providers and customers and then built the best solution possible for both sides.
Based on market research, you need to define your buyer personas. These are semi-fictional characters that have the features of your ideal customer.
To describe your potential customer as precisely as possible, follow these points:
Age
Location
Occupation
Education level
Family
Yearly income
Possible pain points
Fears
Inspiration sources
Depending on the type of marketplace you are going to build, add more data points to better understand the expectations of your potential customer.
In the case of online marketplaces, there are several types of personas. These platforms generally target two completely different audiences at the same time: service providers and consumers. You should define buyer personas for both of them.
For example, let's say you are going to build a marketplace website for dog walkers. In this case, the potential service provider, or the pet sitter, is a student without a permanent income. He lives alone or shares a flat with a friend in a big city, had a dog when he lived with his parents and therefore loves dogs, is interested in a part-time job, and has at least 5 free hours per week to walk other dogs.
The potential dog walker client might be a business lady aged 35 – 45 with a certain income, who lives alone in a big city, has two dogs, has a non-flexible working schedule, etc.
Is there a market for your marketplace idea?
Market volume is also important. By analyzing the market, you can decide which part of it you will target. The ride-sharing market, for example, is huge. All over the world, people are driving their cars and would gladly share the cost of fuel with a passenger. On the other hand, there are plenty of people who would prefer to share a ride with someone instead of taking a bus or a train.
However, the market for a ride-sharing service does not include the whole world. Firstly, there are regions with low standards of living (such as countries in Asia, Africa, or South America). Most people in these regions don't own cars, and most never leave their hometown. There is no actual problem, therefore, there is no need to build a solution. Is it worth launching a ride-sharing service in these countries? Obviously, no.
Secondly, there are countries with specific traditions, values, and laws. The law in Saudi Arabia, for example, didn't allow women to drive cars until recently, and using public transport wasn't an alternative. We don't expect the situation to change dramatically in the near future, which means that women will still prefer to use private cars with a driver. Would it be a good idea for a ridesharing service to expand into a country with strict Islamic traditions, like Saudi Arabia? Yes, it would, but it requires a more specific approach.
Some online marketplace businesses may be afraid to enter specific markets, such as Arabic countries, due to big differences in lifestyles and laws. But, if you're a resident of one of these countries and understand the market well, this could be a great opportunity. You can adapt the idea to the reality of the target audience and build a product that is even more successful than the original one!
Who are the competitors of your online marketplace?
In a perfect world, you'd love to have your idea in a big blue ocean without any competitors. But the reality is different. Almost everything you can think of has already been invented. That's why it's highly important to understand your competition. This will give you a chance to beat them.
What advantages do your competitors have? What are their drawbacks? Can you offer your clients something better with your product? Can you predict how your competitors will improve their products in the near future? Will competition increase in the near future?
How can you deliver more value than your competitor?
Analyzing the competition allows you to build a marketplace that is one step ahead.
What are the possible monetization models for marketplaces?
Before seeking the answer to "How to build a marketplace?" answer the question "How will I earn money with my product?"
All projects have to generate revenue in order to attract investors and become internationally successful. The marketplace is no exception. There are several ways to monetize your online marketplace:
Commission
The marketplace charges a percentage or fixed fee for every successful transaction on the website.
Subscription
The users pay a monthly/yearly fee to use the marketplace.
Listing fee
The seller has to pay for every listing they add to the marketplace.
Freemium
Most features on the marketplace are free, and the premium ones are paid.
Advertising
The more users the marketplace has, the more it can earn through advertisements. With this model, users usually don't have to pay to use the service because the ads generate revenue for the service.
Marketplaces like Couchsurfing, for example, make money by displaying ads to their multimillion community. Airbnb, on the contrary, doesn't have ads on its website because its revenue comes from the service commission received from every successful transaction.
Escrow payments, for example, are a popular solution for online marketplaces. This allows the marketplace itself to be a middleman that holds money for its users.
Here is how escrow payments work: the marketplace charges the consumer for the products or services ordered. The money remains in the marketplace account until the provider has fulfilled their obligations; only then is the provider paid. The marketplace, in this case, is the third party, which regulates and guarantees a financial relationship between provider and consumer.
In the US, for example, escrow payments are regulated at the state level. This means that a business has to get a state license to deliver services to its customers. Some countries do not allow escrow payments at all.
It's important to select a monetization model that will correspond with the product's philosophy. However, legal regulations are a highly important aspect to consider.
2. How to build a marketplace: 4 stages of the development process
So, your idea seems to have real potential. It solves existing problems, there is a market for it, and even the possibility of earning money. However, don't hurry to approach investors yet. You first have to figure out how to launch a marketplace website.
a. Build a marketplace prototype and test the idea
First, you need to get the idea out of your head and make it visual. This can be done with a prototype, which is a sketch or a simplified model, of what you are going to build.
Here's a small tip: a prototype along with technical requirements will be useful when you start developing your product. So, it sometimes makes sense to hire a professional to create an online marketplace prototype of high-quality. However, you can also do this yourself. If you decided to do it by yourself, read our extensive guide on prototyping. It explains everything step-by-step so that you can successfully build your own prototype, even if you have no relevant background.
A prototype is the best way to present an idea to a co-founder or first employee, generate interest from your first users, and attract early investments.
b. Prepare the project documentation
Though this may seem to be a monotonous task, creating detailed project documentation will save you plenty of time and money in the marketplace website development process. It doesn't matter if you hire in-house developers or a dedicated team – the documentation will be a clear roadmap for them.
This stage helps ensure that everyone correctly understands the goal and functionality of the product they build.
c. Build a marketplace website MVP
After preparing the prototype and project documentation, you are now ready to start developing the product, or the minimum viable product, to be exact.
A minimum viable product, or the MVP, is a product with just enough features to attract early users. The main idea behind the MVP is to get the application into the hands of the target audience as soon as possible. After releasing the MVP, you will rely on user feedback and must be ready to make steady improvements.
Sometimes the MVP reveals a sad truth – that the assumptions you made during the market analysis are false, and the idea wasn't as brilliant as it first appeared. You now have a chance to change the direction slightly and adjust the idea to meet the real needs of the market – or give up. In the latter case, early failure means cheap failure.
Just take a look at how Airbnb started their web presence and how they look now, after years of analyzing their customer needs and preferences.
They initially decided to build a simple website which had one aim – to prove the assumption that the platform would attract people's attention. Once they recognized the potential of such a service, the investors were unstoppable. According to Crunchbase, in its 11-year history, Airbnb has raised $4.4 billion and is listed as one of the most successful startups of our time.
Of course, their website now looks much prettier and attracts millions of users. 
The initial idea of an MVP is to start an online marketplace with just enough functionality to attract early adopters. An MVP is not about offering extensive features and earning money. It's about validating the idea, finding potential users, receiving feedback on the product you build, and constantly improving it.
In addition to validating your assumptions about your marketplace idea, an MVP will help you attract your first users and even your first payments. Having an MVP that is already showing results also makes you attractive to initial investors.
d. Grow your online marketplace user base
The dream scenario for each small business is that, upon releasing a marketplace app, you immediately gather thousands of users, both suppliers, and customers. Unfortunately, you can't rely on such a happy coincidence. That's why you should start growing your user base long before the online marketplace is built. This is how you can attract your most loyal customers.
How to attract sellers to your marketplace?
You may think that no one is interested in entering your marketplace until there is a strong buyer base. But the reality is quite different. Suppliers and service providers are constantly searching for new channels through which they can sell their products or skills. And if you manage to pitch them on the potential of selling on your platform, they will willingly register. Just make sure to present all the benefits and perks of your marketplace service.
Where to find potential sellers?
Scan your competitors and subjacent services
If a contractor is already using a marketplace, they are potentially open to similar offers as well. In addition, they already have an active source of orders (your competitor's platform), which means they won't push you if they won't get immediate result.
Use search engines
Look for active service providers in the region of your interest. Offer special conditions, such as subscription discounts or free access to premium features, to draw the attention of established businesses.
Use social networks
Check out specific groups on Facebook, subscribe to industry-related hashtags, check reviews, etc. Along with finding a few potential users, you'll have a handful of ideas about how to develop your marketplace further.
How to attract customers to your marketplace?
So, you managed to attract the first suppliers or contractors to your marketplace. Congratulations! But you're not done yet. No marketplace is successful without a base of loyal users. So think carefully about how you can increase customer awareness of your service. Here are a few ideas:
Start your own blog or community
But, please, don't write about your service. Think about topics that are interesting to your potential buyers, give valuable advice, or share relevant stories. If your marketplace offers goods and services for pets, your blog should help pet owners. You could also share entertaining content like home videos with cats. If you bet on user-generated content, your chances to succeed increase.
Take part in discussions
Facebook groups, forums, etc. are the best places to draw the attention of your potential audience.
Create a landing page and advertise it
You can start gathering emails long before the platform itself is built. Just create an online marketplace landing page, share it on relevant channels, and launch ads targeting your audience.
Look for brand ambassadors
Contact bloggers or local celebrities and try to make them your ambassadors. Their fans will definitely follow.
You have to make sure that on launch day, your marketplace won't be a tabula rasa without a single listing. This kills trust in your page and makes it highly unlikely that you will attract new users. So, do your best to build a small but loyal community before the launch
3. Cost and time of marketplace website development
Being in the early stages of marketplace startup development, you are likely short on money. So, the marketplace website cost is a significant factor.
Hiring an in-house team could cost you a fortune. However, there is always the option to outsource. You can assign the development process to a company from another country and save a big piece of your budget pie. App development outsourcing is a great option to reduce expenses without risking quality. You should definitely learn more about it!
These are the main stages in marketplace development and their approximate duration:
Research and analysis – 40-100 hours
Analyze the current market, research the demand, and study competitor services. You can do this on your own or together with an experienced business analyst. Involving a professional will get you detailed project requirements, which will be a solid starting point for your development process.
UX and UI design of a marketplace app – 100-300 hours
Don't neglect the work of an experienced UX profi. Their job is to ensure that the users have the best experience when working with your app. A good UX is a competitive advantage, just like a catchy and stylish interface.
Frontend and backend development – 300-1000 hours
The time required to build a marketplace app is much harder to estimate since the time and cost of the development process completely depends on the application's functionality, the chosen technology stack, the size of the team, and more. However, the approximate numbers mentioned above are real.
Quality assurance and bug fixing – 150-350 hours
To achieve exclusive software quality, development and QA processes should run simultaneously. Some business owners see software testing as a piece of the cake that they can do by themselves. However, a test engineer can implement various techniques to cover most of the possible usage scenarios, ensuring that your customers don't face an unexpected problem during app usage.
When starting from scratch, your marketplace app development team should include:
A business analyst
A UX/UI designer
Software developers (frontend and backend pros, or full-stack programmers);
A manual or automation QA engineer, depending on your project needs.
The price of the project is calculated based on software company rates, which vary by country.
US and Canada – $150 to $180 per hour
Western and Northern Europe – $90 to $120 per hour
Eastern Europe – $40 to $75 per hour
Asia and Southern America – $15 to $45 per hour
we can analyze different rates and regions to save cost for the project. Eastern Europe generally offers the most attractive price and quality. That's why we use the average rate in Ukraine for further calculations.
How much does it cost to build an online marketplace? The price starts at $30 000 for a simple MVP and can reach up to $100 000 for a full-featured application with complex architecture.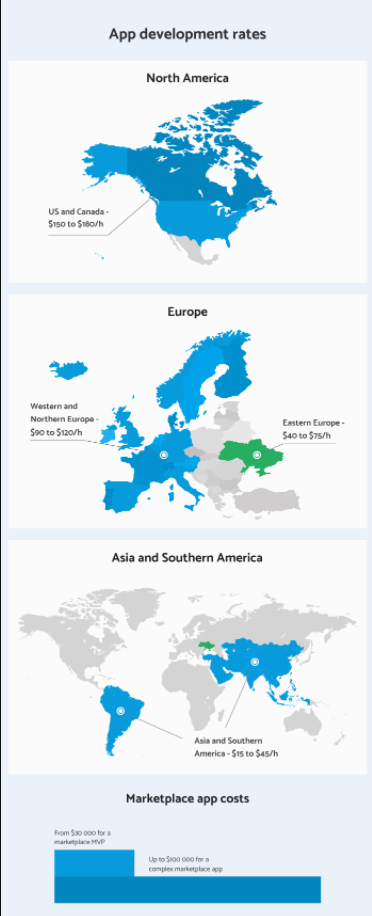 4. Technology stacks for building a marketplace that we use at Netbase
Usually, there are two options to choose from:
A ready-to-use platform such as Sharetribe
Sharetribe is a WordPress for marketplaces. It enables different grades of customization depending on your technical skills. It is generally a one-size-fits-all solution created for non-developers.
A custom marketplace application
If your requirements are above average, a ready-made platform won't satisfy them. You need to hire a team that builds a tailored solution with your case in mind. No compromises, only high-end results.
Netbase develops custom marketplace apps only and the technology stack we choose depends on each individual case we work on. This is what we have to offer:
Frontend development:
Backend development:
Mobile app development:
React Native
Ionic
NativeScript
Cordova
Flutter
Databases:
Cloud solutions:
Amazon Web Services
Digitalocean
Google Cloud
Heroku
We mix our core technologies, employ the latest trends and study new tools to achieve the highest efficiency possible. Each project is unique, just as the technology stack required.
Want to discuss the set of tools and technologies that will bring your idea to life? There's nothing easier than scheduling a free consultation with us here
5. Must-Have Features for a Marketplace MVP
So, you've decided on the tools and technologies. But the hardest choice is still to come. Which features should you implement in your MVP, and which ones can wait? Here's a list of features your marketplace MVP must include:
Easy social login
Don't bother your first users with a complicated authorization process. Social login buttons are convenient and save you development time
Profiles for buyers and sellers
You'll have two user types in your app. Therefore, get ready to create two types of interfaces for them
Search and filtering
There won't be many listings at first, but you still have to provide your users with an easy search and filtering process, or they'll quit.
Messaging
The main task of a marketplace is to connect sellers and buyers. Give them an opportunity to discuss transactions right in your app.
Reviews
People trust other people's opinions. That's why implementing a review system can increase trust on your platform and improve conversion rates.
Payments
One reason why customers come to a marketplace is that they need a reliable third party to manage the transaction. You have to think carefully about which payment gateway to choose for your marketplace.
These are the absolute minimum features your marketplace app needs to start attracting customers. Later on, you'll add more sophisticated features to improve the user experience and increase your revenue. Moreover, customer interaction will give you ideas for new functionality as well!
6. Looking for some inspiration?
The sharing economy is a good place to start. Moreover, literally any idea can take you to the top of the industry.
This is a list of some fascinating online marketplaces. These services will show you how an idea can become a successful business when you are completely passionate about what you do.
Collabary is an online marketplace for service providers that connects brands with content creators that share their content through social networks (Facebook, Twitter, YouTube, Instagram, and other media channels). Their clients are brands that are looking for additional advertising possibilities that rely on the expertise and popularity of the content creator.
Science Exchange. Marketplaces can also serve the scientific community. This project connects scientists with laboratories and research institutes. Ordering experiments from the world's best service providers is now much easier.
Are you taking a business trip and can't leave your dog alone at home? DogVacay connects pet sitters with pet owners. This simple idea solves the problems of thousands of dog lovers.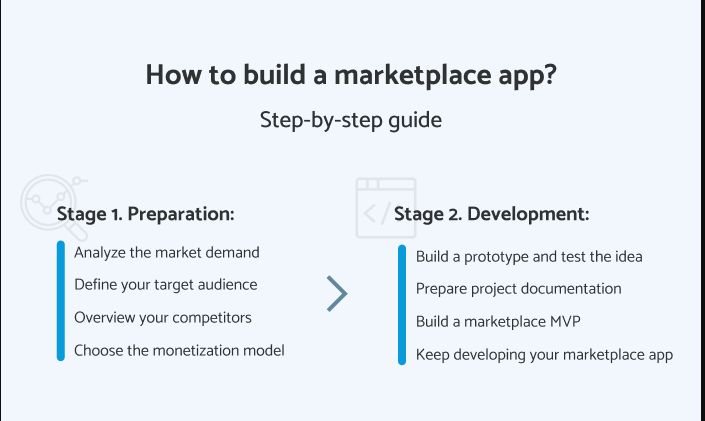 Although the sharing economy isn't a new concept, it has become more widespread in the digital era. Modern online marketplaces connect goods and service providers with their clients worldwide in seconds, providing everyone with enormous possibilities and opportunities.
The examples of Airbnb, Couchsurfing, Uber, BlaBlaCar, Lyft, and many more prove that the idea is what really matters. If an idea solves the existing problems of potential users – it has a bright future. If an idea can stand out in a crowd of competitors – it can overcome them. If an idea has the potential for monetization by making people's lives better – it is worth implementing. 
Are you having a plan of making an Online Marketplace in mind?
Hope that through this article, you can get a better understanding of Online Marketplace and how to build it
If it is too complicated to develop a marketplace on your own even when you already have an idea for it , let us give you a hand
What you should do now is sending your request to project@netbasejsc.com or call us directly via Whatsapp at +84 355 933 306. Our project department will get in touch with you within a few hours and give you a free quote for your project. We cover the whole process, starting with business analysis through design and development up to product launch and beyond